'the chiu restaurant, hangzhou' by nature times art design co., ltd
"le chiu, hangzhou" integrates regional subcultures through innovative spatial languages
'the chiu, hagzhou' restaurantoffering chaoshan cuisine, opens a new branch in China qianjiang CBD district of the new city. conceived as a private banquet restaurant by nature time art design, the project reflects the gradual integration of regional subcultures. clashing between old and new, tradition and modernity, local and foreign accents, the architects effectively reinterpreted the deep meaning of cultural symbols found in the Jiangnan region by adopting new spatial languages ​​and breaking through conventional thinking.
the restaurant mainly comprises an entrance, a reception and tea area, a dining room and seven private rooms defined by different themes and tones, with a circulation route looping around the entire space. once inside, a garden-themed, jade-green elevator lobby welcomes guests to a surreal, immersive world with flowing lights, shadows, and digital butterflies floating in and out of view. as visitors pass through this segment, a flood of deep emotions prepares them to enjoy the rest of the dining experience.
all images © wu jianquan
'Among the seven private rooms, some are soft and reserved, while others are intense and bright. this all-encompassing sensationalism combines rational value and romantic sentiment,' say it team to nature time art design. connecting many of these sensory rooms is a corridor guiding guests through soft lighting and micro landscape installations that subtly evoke aesthetic ambiences and a sense of detachment.
to reflect the beauty of jiangnan, the design makes full use of line, color, shape and texture. it also combines landscape elements and objects representing distinctive cultural symbols like snow, water, bridge, balustrade, and expresses them through contemporary art. moreover, depending on the structure and natural lighting conditions of each private room, the restaurant offers dynamic and varied theatrical "stages" to enrich the spiritual and sensory dining experience.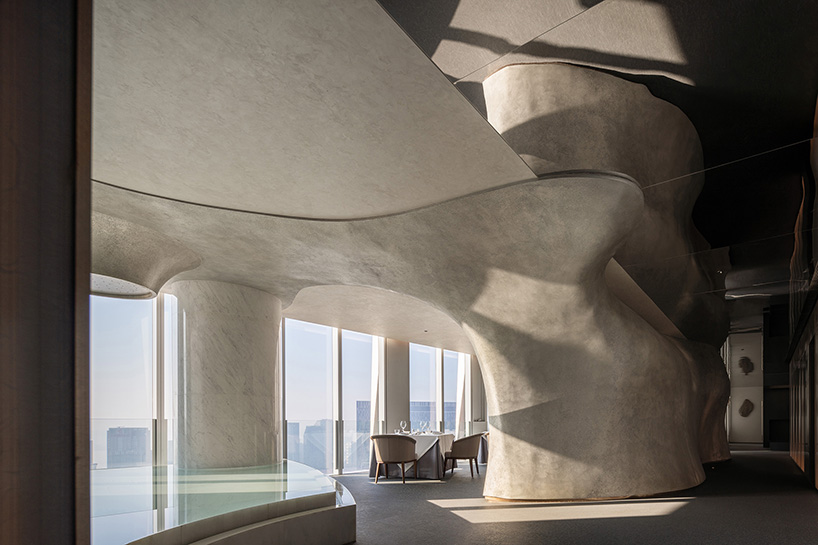 overview of the public dining room
seven private rooms evoking snow, water, orientalism, bridges and more
the first private room is a tea tasting area located at one end of the elevator passage, where rough rough stones are introduced into the simple and clean space bounded by straight lines, silently dialoguing with the distant mountain landscape . the other end of the passageway leads to a public dining hall, in which irregular undulating walls of silver leaf echo the rising tides of the qiantang river. further down the corridor, an aquatic landscape merges with the river landscape outside, accompanied by cascading sounds stimulating great visual and auditory tension.
the next room translates the snowy winters of jiangnan into white interior surfaces adorned with a striking floral art installation. setting the tone for this space is a transition characterized by a withered lotus, soft shadows and a decorative basin. Overall, simple design languages ​​and cultural symbols set an elegant and picturesque art scene for this private room.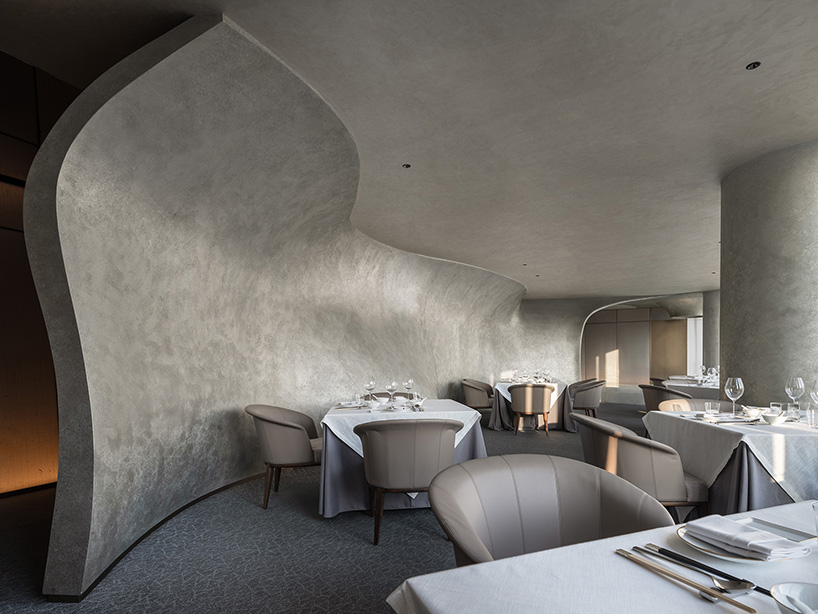 the undulating silver leaf echoes the rising tides of the qiantang river
contrasting these snowy white tones, the fourth room injects a dramatic oriental feeling to "chiu, hangzhou" through a deep red tone coating its interior. based on Chinese aesthetics, the space evokes simplified design expressions and flowing light and shadow to trigger deep emotions. hollowed-out jade screens at the periphery take inspiration from the shape of traditional Chinese railings, creating a sense of depth, while hanging lanterns at the corner and modern curved furniture embody a still aesthetic.
the fifth zone changes from turbulent red to peaceful cyan, representing the infinite vitality of all things growing in the universe. specifically, different cyan shades and brightnesses smoothly blend into space blocks and furniture to produce gradual changes and connect with the city's blue skies. furthermore, a wall installation with abstract folds and textures enhances the room with its delicate details, while mirrors create playful visual experiences.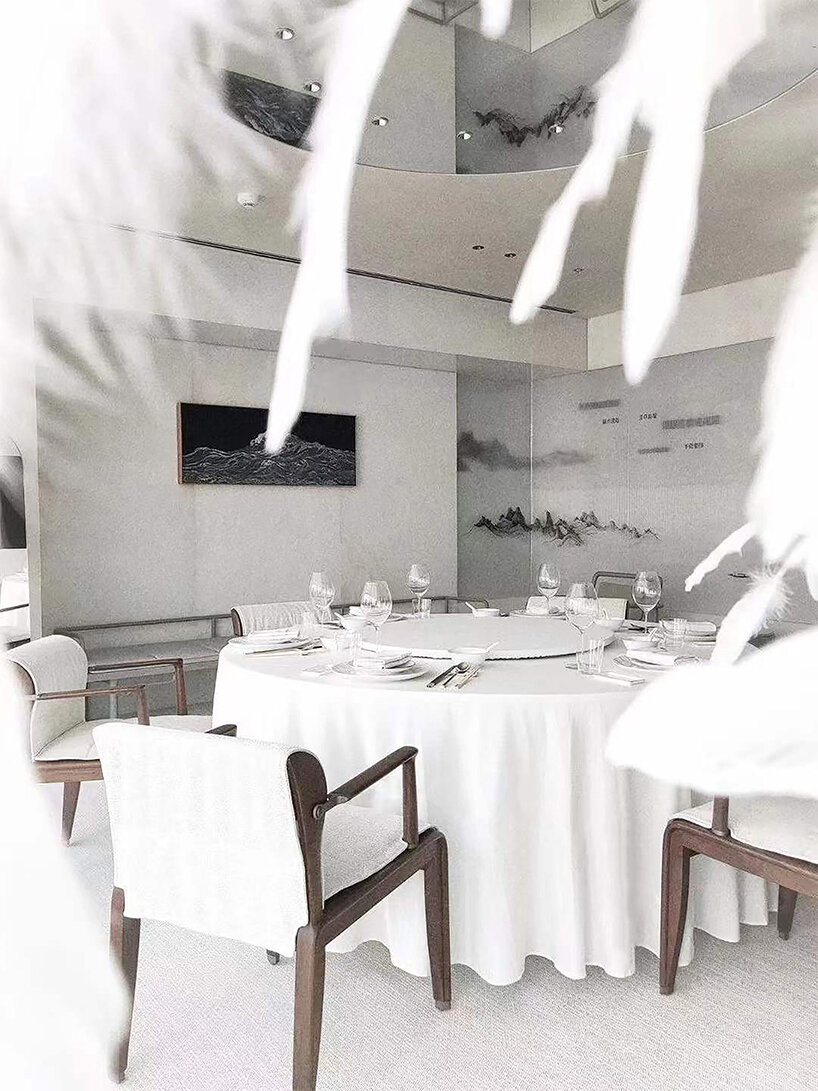 snow themed private room
a sixth space invites guests into a haven of yellow, the noblest hue found in traditional yin and yang, and also a classic color favored by top luxury fashion brands. by considering visual language, orientation, light and shadow variations, and angles, the design creates vivid visual effects that change over time. indeed, the space becomes especially captivating when awash in the glow of the sunset. meanwhile, bright colors and geometric modular structures reveal a minimalist aesthetic, with hand-crafted gold lacquered wood carvings by chaoshan artisans to inject cultural value.
the seventh and last private lounge extends the yellow atmosphere provided by a west-facing window. the interior here extracts the tone of tea soup and adjusts it to desaturated pink hues that fit into an eclectic and poetic environment. Comprised of simple, neat surfaces and blocks, the space features an integrated back wall cut in an offset fashion, shaping an immersive world with deep structure.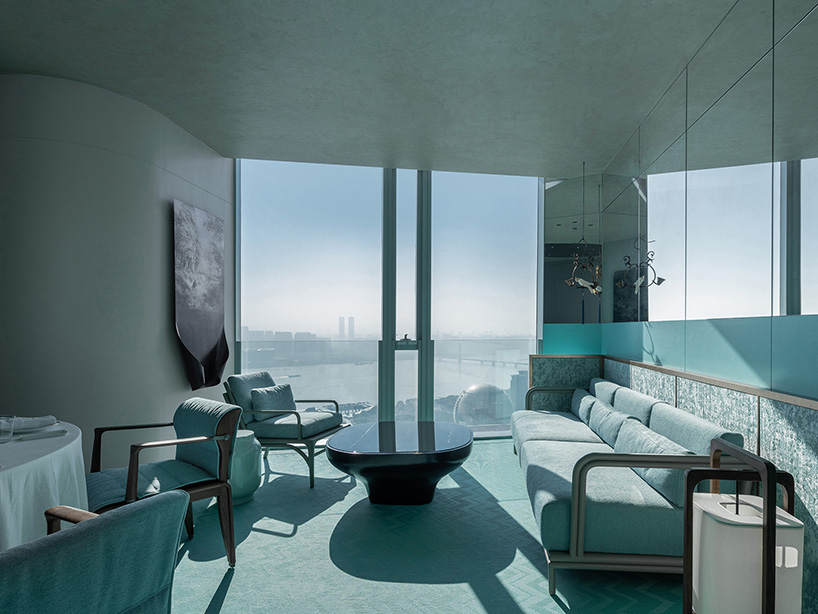 cyan infused private room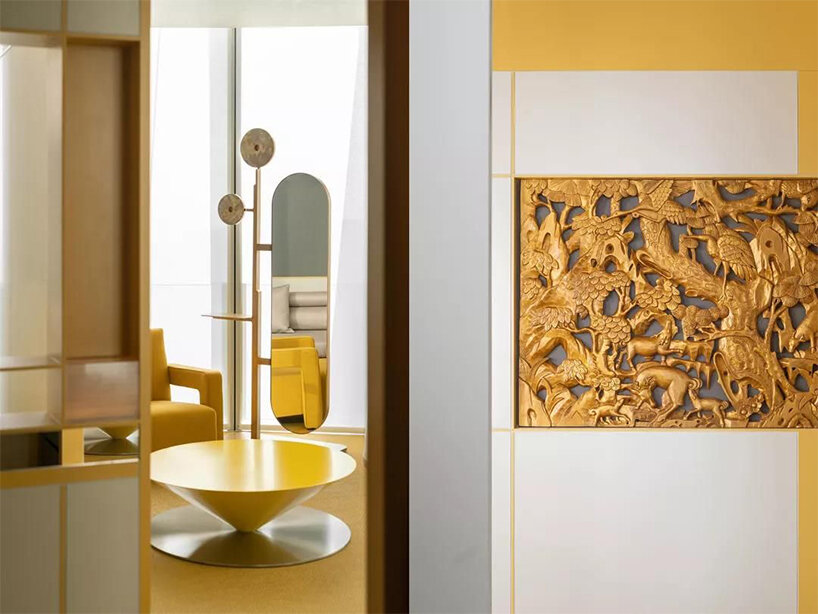 bright yellow bedroom reminiscent of Chinese fashion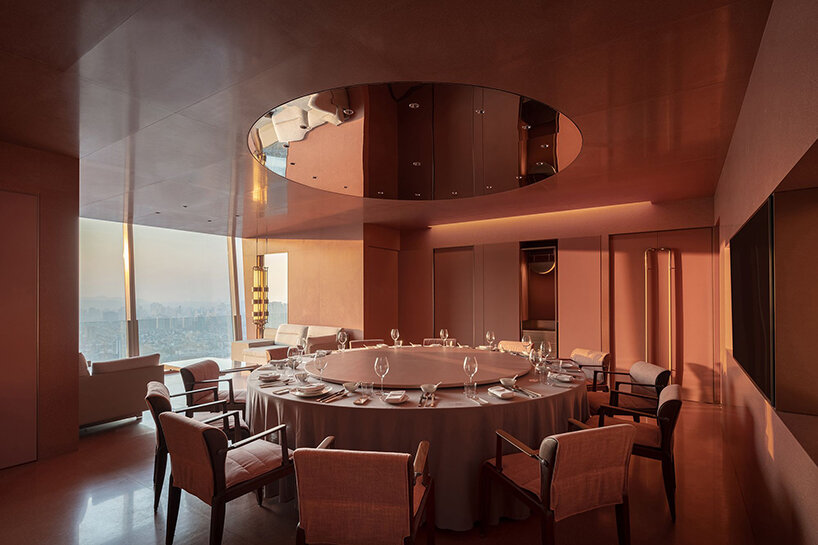 the lingering private space infused with tender roses
1/6
the immersive green jade lobby
waterscape and foyer at main hallway
hallway of the public dining hall in the evening
bright red oriental bedroom
cyan infused dining room
private space on the theme of snow
project info:
Name: the chiu, hangzhou
location: hangzhou city, zhejiang province, china
completion time: December 2021
total area: 750 m²
architecture: nature times art design co., ltd.
creative director: wei-jinjing
design of interior finishes: wei yaocheng
interior decoration design: zhang huichao, lin yushi
site team: YCWORK / lao zhaoqin, lin junru
lighting consultant: ENLIGHTEN / ding jie
VI design: zhou ferry
photography: wu jianquan
video: Xiang Shucheng (DD)
designboom received this project from our DIY Submissions feature, where we invite our readers to submit their own work for publication. see more project submissions from our readers here.
edited by: léa zeitoun | design boom