Uncredited art classes at SPSCC provide opportunities for enrichment, creativity and community
At South Puget Sound Community College (SPSCC), the quest for learning and personal development is unique to each student. In addition to high school, pre-university, and college education options, there are also opportunities for students seeking uncredited study. Company and continuing education (CCE) course for leisure, personal enrichment and professional development.
CCE student David Drummond has participated in several in-person and online art classes taught by CCE instructor Jill sattler, including watercolor and acrylic painting lessons. Through these uncredited art classes at SPSCC, Drummond learned specialized techniques, including how to mix, mix and dilute paints, and how to use water to help disperse color in a painting.
"Jill's art classes are fun," says Drummond. "Even if sometimes you don't know what you are doing and get it wrong, she helps you get back and finish the painting. She never criticizes what we get and praises us for our efforts no matter what. She knows her craft and is an excellent artist in her own right. Jill is by far the best art teacher I have had and I have taken many art classes over the years. "
After participating in credit-free virtual art classes at SPSCC, Drummond says the distance format offers multiple benefits, including a closer view of teaching and accessibility for a wider range of students. "Online you have better visibility into what the instructor is teaching and painting than in the classroom," explains Drummond. The online version works well for me because when the class is over, it's over! I don't have to drive home. It's huge for me because I'm a senior and don't like to drive at night.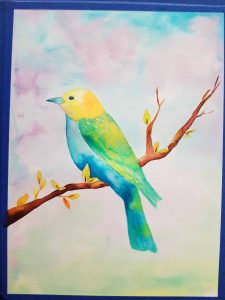 Open to the community, the SPSCC uncredited art classes offer the chance to learn a new artistic medium in a favorable environment. As an instructor for SPSCC's uncredited art classes, Sattler is a third generation artist, specializing in watercolor and Celtic knotting. After graduating with a Masters of Fine Arts in 2014, Sattler wanted to share her love for art with others by becoming a teacher and cultivating a community with a classroom.
"I love to teach and I love to share my knowledge about what I do," says Sattler. "But what matters most is that I like to see what my students create. "
Aimed at community members of any age or level of education, SPSCC's uncredited art classes are open to those looking to develop a new skill or hobby. Sattler says she taught teens, adults and the elderly in uncredited art classes at SPSCC.
Longtime art student Vicki Johnson attended Sattler's painting classes at SPSCC for three years. After taking a range of classes, Johnson says she enjoys Sattler's teaching style, including how each step of a project is clearly demonstrated, while still leaving room for each student's creative flair. "My favorite Jill quote is 'you do yourself'," says Johnson. "Jill makes me feel like I can paint anything, and I'm always learning something new with every lesson. Another unexpected benefit for me was meeting other artists who share the same joy. I can't wait to find out more and see what she has planned for us next.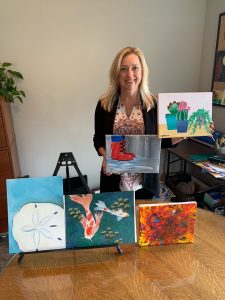 Due to the COVID-19 pandemic, many uncredited SPSCC art classes have been moved to remote settings, including self-paced practice and live teaching on Zoom. For the next winter term, there will be several painting, drawing and pastel classes available in multiple socially distanced formats.
Thanks to their distance learning course, Book making, each student will receive a kit containing supplies, written instructions, and pre-recorded video tutorials, created by Sattler, to help the student create their own decorated journal or notebook. This self-paced course is ideal for students looking for a creative outlet, while also wanting to learn on a flexible schedule.
By respecting the strict rules of social distancing, Soft pastel techniques will be offered in person throughout the winter term. Wearing a mask will be compulsory for the duration of the lessons and the pupils will be correctly spaced in the classroom. Led by instructor Gay Hoffman, Soft Pastel Techniques will introduce students to the soft pastel medium, paying attention to the unique attributes of pastel and color theory, to create photo-realistic images.
With live instruction on Zoom, online courses include Acrylic paint, Watercolor painting and Celtic design drawing, all taught by Sattler. Acrylic painting is aimed at beginner or intermediate students, with sessions tailored to the skill levels and interests of each class. Ideal for beginner painters, watercolor painting provides students with an introductory lesson in the art of watercolor, while also making original projects, like maps and 3D figures in addition to traditional paintings. A highlight for Sattler, Drawing Celtic Knotwork explores reflective art practices and the creation of interwoven Celtic knots, including geometry, use of color, and repeating patterns.
In recent years, Pennie Orwoll has become a regular student of Sattler's art classes at SPSCC. In the classroom, Orwoll enjoys the fun and relaxed atmosphere, including Sattler's ability to teach new and experienced painters throughout the session. "I learned so much," Orwoll says. "Color theory, mixing, use of mediums, backgrounds, landscapes, aquatic subjects, portraits of domestic animals, still life, casting, impressionism, chiascurro, mixed media, abstract painting, and I continue to learn more with each class. Thanks to Jill, I have found acrylic painting to be a peaceful creative outlet away from the hectic pace of life.
To learn more about in-company and continuing education, or to register for an uncredited art course, visit South Puget Sound Community College website.
Sponsored